The Seymour Liebman Story - Part 5
Foundational Stories of
The People Behind the Enterprise
----------
The Seymour Liebman Story
Part 5
Seymour the Builder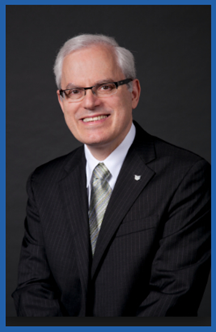 An extraordinary man in ordinary clothes who carries a deep devotion to his family, his community and his company in a plain briefcase full of degrees, titles, and honors.

This is part 5 of the 7-part Seymour Liebman Story series. If you would like a free eBook of the entire series, Click the button below.

In the first 4 parts of this series, we learned of Seymour Liebman's accelerated and accomplished education journey, his experiences at the New York Stock Exchange and KPMG before being asked to join Canon as an accountant when he then became a key negotiator even with Steve Jobs.
Join us in Part 5 as his Canon career journey progresses to high office, honors and recognitions all the way to taking on the building of a new headquarters.
Seymour Liebman, the Executive Vice President, Chief Administrative Officer and General Counsel of Canon U.S.A., recently spent time with Julie and Andy Plata, Co-CEOs of the OutputLinks Communications Group, to share some of the events that shaped his life and propelled his career into areas that he didn't expect or actively pursue.
The discussion uncovers a remarkable man with a story that leaves one amazed, impressed, and inspired. It reveals a humble and confident leader who has made his way through a long and respected career, building skills and expertise in an impressive range of disciplines. Along the way, he also set others on their paths to success through his mentorship, his teaching, and most clearly through his many examples of leadership.
Over this multi-part article series, we will share the life approaches and adventures in service that characterize Seymour Liebman's multi-decade Canon career.
We trust that your time invested in reading this series will provide insights and pathways to enrich your approach to life and business.
If you've missed any of the previous articles click here for Part 1, Part 2, Part 3 or Part 4.
Making  Impossible  Possible - One Canon Park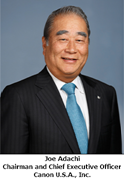 Canon USA's  commitment to  its employees,  future growth and  environmental ethics  is represented by its  magnificent  52-acre  headquarters in Melville, New York.  The  architecturally striking  campus, designed and built to achieve Gold-level LEED certification,  blends gracefully into the surrounding  Long Island community. Seymour worked closely with Joe Adachi, Canon U.S.A.,'s Chairman and CEO to builds this facility.
Seymour the Builder 
Since  Canon USA had outgrown its  corporate headquarters in Lake Success,  New York  it had employees scattered at various offices  throughout  Lake Success. The company had been trying to  find  a  suitable  facility  to bring their employees together in  one office  complex. When the decision was made to build a brand-new  headquarters campus ,the task of finding the  'right' location and  planning and  building the  'right' facility was  offered  to Seymour.  And as always, Seymour  responded,  "Yes" to the challenge. 
Commitment to Long Island 
Seymour  always felt strongly that  the  new  Canon USA  headquarters  belonged on Long Island  where it has been since 1971.  He also felt that Canon's employees were its major asset and that if Canon moved to another state, we would lose a considerable number of our employees. That strong belief was  sorely  tested  at  every step along the way.  He had to overcome a long list of hurdles to make the vision a reality.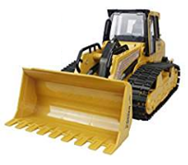 New York  State had 'Empire Zones' – designated areas across the state that were identified as targets for development.  They  offered significant incentives and tax benefits to companies who built in one of these zones.  There were six designated zones in the Long Island area, but the location that was best suited to Canon's needs was not one of them.  Seymour straightened his tie, grabbed his briefcase and headed up to Albany to engage in one of his most personally significant negotiations.   
Although New York was Canon's preferred location, other states were aggressively pursuing them  and offering significant enticements and incentives.  These states  understood  that landing a major corporate citizen brought along jobs, tax revenue and  prestige that would attract other businesses to the state.  This situation provided lots of options to consider, and lots of leverage when it came time to negotiate. 
Making the Case 
Seymour  presented his case to the  state officials responsible for designating  the empire zones.  He argued  that Canon wanted to build their U.S. based headquarters in New York, but they really needed the benefits of an empire zone to make it feasible.  They listened, and said,  "Sorry, we  can't do it." 
"Can't -  or won't?" Seymour countered.  He then went through all the reasons it would be a good thing for Long Island, and how Canon was being aggressively courted by neighboring states.   His argument was persuasive; they went back to the table and started figuring out ways to make it happen. 
They  found  a way to take a small parcel  away  from a larger tract in an existing empire zone and came up with a combination that would allow the creation of a seventh zone on Long Island.  Canon now had what they needed, and work began on what is now One Canon  Park.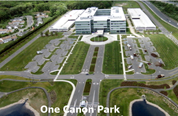 Building Through Adversity
Canon's plan was to build a 5-story, 700,000 square foot office on the property, but the town zoning laws didn't allow for it. Another challenge meant another negotiation, this time with the zoning board. After some discussions, Seymour helped the zoning board see the merits of Canon's plan, and a change to the existing regulations was adopted to permit 5-story buildings. This was a good decision for Canon as well as other companies that wanted to expand their footprint in the area. The city also benefitted from the increased tax revenue resulting from those expansions. This was another Seymour win-win style solution.
Putting together a 52-acre campus in a congested freeway area came with its own challenges.  With thousands of employees projected to relocate to the new facility, practical logistical issues needed to be sorted out.   Originally, the added traffic would likely flow down the  heavily traveled  Walt Whitman Road.  The added burden of two to three thousand employees would cause significant, daily delays.  Seymour  went to the state  looking for permission to add two curb cuts – entrances –  to the campus  from the expressway service road.  He met with resistance and responded with persistence.  After some discussion with his contacts in Albany, Canon was granted their entrances. 
Other challenges came up as the  project  was  progressing.  A problem arose with the construction of the sewer system that would service the complex.  There was a residential area nearby, and the sewer district wanted to have the new installation connect  to it  in a way that would bring the sewer pipes under the main building.  This posed  significant potential  issues around  maintenance  and repair  that were  impractical and unacceptable to Canon.   In trying to compromise,Canon and their contractor  made alternate suggestions that would minimize impact of any potential emergency repairs,  routing the sewer lines in a way that would  sacrifice  some parking lot blacktop rather than more invasive  work inside the facility  if repair was needed.  
There was no clear path to resolution, so Seymour reached out to some pretty powerful friends – a senator, a congressman, the county executive and the town supervisor. They all understood the importance of a successful project and the added jobs and businesses that Canon would bring to the area.  They helped find solutions, and the project moved forward to completion.   
Seymour worked with everyone – from  a  United States  Senator to the local planning and zoning  employees.  He says, "Everybody  helped." 
One Canon Park is now a beautiful campus, with one of New York's largest LEED Gold Certified buildings, ease of access, ample parking, walking trails and open spaces.   And, permits  and plans are already in place  to accommodate  Canon's future needs to expand the facility.   
The company headquarters in Melville, NY stands as one of Seymour's proudest accomplishments.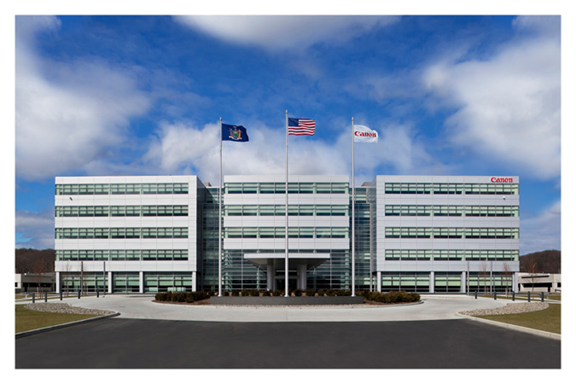 This is part 5 of the 7-part Seymour Liebman Story series. Watch this publication weekly 'for the rest of the story.'
If you would like a free eBook of the entire series, Click the button below.