Foundational Stories of
The People Behind the Enterprise
The Seymour Liebman Story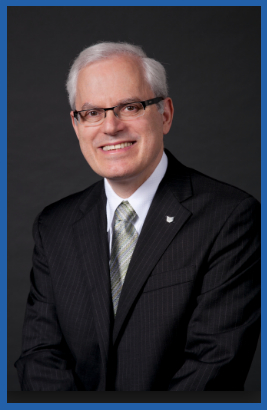 An extraordinary man in ordinary clothes who carries a deep devotion to his family, community, and company in a plain briefcase full of degrees, titles, and honors.

Published by the OutputLinks Communications Group, Inc. April 2017. No part of this publication may be edited or reproduced in any form without prior written permission from the publisher.
The publisher hereby grants reviewers and media representatives permission to quote passages from the publication.
To request additional copies, email [email protected]
OutputLinks Communications Group and OutputLinks are registered trademarks of the OutputLinks Communications Group, Inc. All other referenced product names and marks are trademarks of their respective owners and are hereby acknowledged.
2017 OutputLinks Communications Group, Inc. All Right Reserved.
Foundational Stories of The People Behind the Enterprise
The Foundational Stories series presents the history, character, and strategic objectives of the leaders in companies driving the world's strategic technologies.
The series has two key objectives:
Success Journey
Each person featured in the Foundational Stories series shares qualities they feel contributed to their long-term success in business, social, and family life. May that information be of value in your success journey.
Selection Assistance
It is often said that one of the best ways to understand an organization's values is through the organization's leaders. We all prefer doing business with companies and people we know, like, and trust. May this series provide information of value in your selection of prospective suppliers, business partners or employers.
We invite you to use the Notes Page at the back to capture the key concepts that seem most relevant to your objectives.
Please drop us an email to let us know if you feel we achieved the key objectives with The Seymour Liebman Story and if we should notify you when the next Foundational Story is ready.
Enjoy this day,

Julie and Andy Plata
Co-CEOs
The OutputLinks Communications Group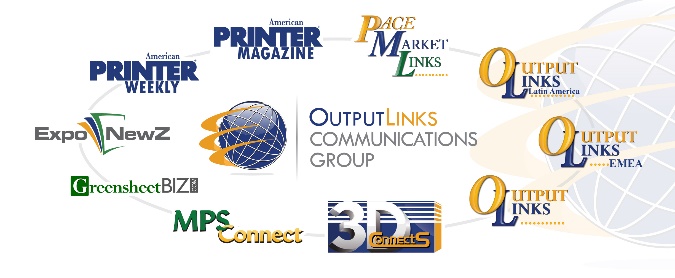 Seymour Liebman succeeds at making the impossible possible.
Seymour Liebman, the Executive Vice President, Chief Administrative Officer and General Counsel of Canon U.S.A., recently spent time with Julie and Andy Plata, Co-CEOs of the OutputLinks Communications Group, to share some of the events that shaped his life and propelled his career into areas that he didn't expect or actively pursue.
The discussion uncovers a remarkable man with a story that leaves one amazed, impressed, and inspired. It reveals a humble and confident leader who has made his way through a long and respected career, building skills and expertise in an impressive range of disciplines.
Along the way, Mr. Liebman also set others on their paths to success through his mentorship, his teaching, and most clearly through his many examples of leadership.
Over the coming chapters, we endeavor share the approaches to life and adventures in service that characterize Seymour Liebman's multi-decade Canon career.
We trust that your time invested in reading this series will provide insights and pathways to enrich your approach to life and business.
Table of Contents
Chapter 1: Behind The Business Card
Chapter 2: Themes, Insights And Humor
Chapter 4: Building a Foundation
Chapter 6: Influence / Pay It Forward
Some leaders 'walk the walk'. Seymour Liebman 'runs'.
Seymour Liebman, the Executive Vice President, Chief Administrative Officer and General Counsel of Canon U.S.A., recently spent time with Julie and Andy Plata, Co-CEOs of the OutputLinks Communications Group to share some of the events that shaped his life and propelled his career into areas that he didn't expect or actively pursue. Mr. Liebman's ability to embrace and excel, at every opportunity that was presented to him, were consistent throughout the discussion. In a slight twist on the 'Behind every successful man is a…' adage, a new axiom is revealed– 'Inside this successful man are many successful mentors'.
The discussion uncovers a remarkable man with a story that leaves one amazed, impressed, and inspired. It reveals a humble and confident leader who has made his way through a long and respected career, building skills and expertise in an impressive range of disciplines. Along the way, he also set others on their paths to success through his mentorship, his teaching, and most clearly through his many examples of leadership.
Chapter 1: Behind the Business Card
If you were to meet Seymour and ask him what he does for a living, odds are that you would get a response like – "I work for Canon." It would probably take some gentle prying to get a more fleshed-out description of his Canon responsibilities. His simple response perfectly matches Seymour's approach to his career – straight forward, inventive and very accomplished. Canon's Corporate website carries the following description: Seymour Liebman, Senior Managing Executive Officer.
Canon's Corporate website carries the following description:
Seymour Liebman
Senior Managing Executive Officer
A deeper dive into his current Canon-related titles reveal these responsibilities: 
At Canon Inc.
Senior Managing Executive Officer
At Canon U.S.A., Inc.
Executive Vice President

General Counsel

Secretary

Chief Administrative Officer
At Canon Divisions
Executive Vice President for Administration and Regional Operations
Océ Holding B.V (Océ N.V.) – former Member of Supervisory Board

Canon Information and Imaging Solutions, Inc. – former President

Canon Financial Services, Inc. – former President

Canon Solutions America, Inc. – Vice Chairman
At other companies
Spartan Bioscience Inc. – Director

LeukoDx, Inc. – Director

T2 Biosystems, Inc. – Director

Zygo Corporation – former Director
It would be nearly impossible to model a career after Seymour's. One would need to have extraordinary drive, curiosity and capability to not only learn but master subjects in timeframes that, when measured against traditional approaches to education, seem almost unattainable. His unique combination of gifts could have gone under-realized, had it not been for his innate persistence multiplied by the mentorship and challenging assignments he received over his Canon career.
In a slight twist on the 'Behind every successful man is a…' adage, a new axiom is revealed – 'Behind this successful man are many successful mentors.'
There doesn't seem to be one word or phrase that describes Seymour's approach to life. He would probably say there doesn't need to be one.
The Impatient Scholar
"I actually never intended to be an accountant."
So, begins a fascinating conversation with this innovative leader.
He continues.
"I always liked accounting, and I always liked math. I actually had a professor in college who said to me, 'You can't be a mathematician, you should go into business'."
"Dr. Robert Sobel, my Hofstra University professor, was not only a teacher but also a mentor and an advocate who reached out on my behalf and got me a job one summer. I was eighteen or nineteen, in college and he said to me, 'What are you doing this summer?' I said, nothing, yet."
"He had written a book, The Big Board, about the New York Stock Exchange, and was writing a new book about the American Stock Exchange, AMEX a History of the American Stock Exchange. So, he told me, 'You are going to work at the American Stock Exchange. I am writing you a letter of introduction. Go down to the Stock Exchange, and you'll have a summer job' and I said, OK".
"Persist, be proactive and try to excel at what you do," says Seymour Liebman.
"I go down to the American Stock Exchange, naïve and not knowing what I'm doing. There are signs all over HR saying, 'No summer jobs, go home, get lost, don't bother us.' I walked in, and I said, 'I'm here for a summer job.' When I showed them the letter from my professor, they said, 'Sorry, nothing available' in a rather abupt manner."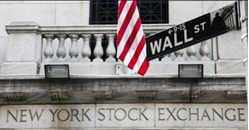 Not one to be easily dissuaded, Seymour looked at his letter and saw it was addressed to Winsor Watson, who was executive vice president at the American Stock Exchange at that time. A combination of naiveté and determination sent him up to Mr. Watson's office, where he told the secretary that he needed to see Mr. Watson.
Seymour continues.
"She asked, 'Do you have an appointment?' I say no, and she said, 'Sorry, Mr. Watson is not available.' Then I gave her the letter, and she said, 'Just a minute.' A few minutes later this guy comes out. 'Seymour, Winsor Watson, how are you? Please come into my office.' I go into his office, and he asks, 'What would you like to do this summer?' I said, 'What's available?' He said, 'Whatever you want to do. Do you want to work on the floor of the exchange?' I said, 'Yes, it sounds exciting. I was always interested in the stock market'."
He hooked me up with a specialist, Ed Wheeler, and I worked on the floor of the exchange that summer. I came back to school, and Dr. Sobel says to me, "Now I hope you have got this math business out of your head." I said, "No, I really still want to go into math."
This stock exchange summer job is an early peek into Seymour's focused approach to opportunity and negotiation, which served him and his employers very well over his career. We will see more of this approach as we go through his career.
Education

Seymour continued at Hofstra University and finished his undergraduate degree in three years. He also took graduate classes during that time which allowed him to apply for and get a four-year Ph.D. Fellowship in mathematics to Rutgers University. He set his sights on finishing his degree at Rutgers in three years. When we asked him why he laughingly said, "Don't ask me why! My family thought I was nuts…I just wanted to get out and start working."
The program was not a Masters Program – it went straight through to a Ph.D. The first year was research, and the second year (1971-1972) he moved into teaching mathematics at Rutgers, while still attending classes. During that year, the mathematics society journal came out and reported that there were five hundred unemployed math Ph.D.'s. The engineering world was falling apart, and nobody had any interest in math Ph.D.'s. Almost overnight, many students in the graduate math department at Rutgers left. Seymour wanted to stay and finish his credits and began work on his thesis in Real Analysis.
Seymour picks up the narrative.
"I had wanted to finish my course work in two years, write my thesis and take my orals the third year, get my Ph.D., and start teaching college. They said to me, 'You can finish your course work the second year. If you expand on your thesis, we'll even give you a Masters, even though there's no Masters in this program. Then you'll have five years to take your orals and complete your thesis'."
After the two years at Rutgers, he reassessed his next steps. Having earned his Masters in Math, he decided he didn't need to stay for the third year. With five years to do his orals and expand his thesis, he did the next logical thing – switched schools and went for a second Master's in Accounting while pursuing his Doctorate!
Unfortunately, he didn't have the time to complete his Ph.D. "I applied to Hofstra and C.W. Post Graduate School of Business. It's a two-year program. I said, 'I don't want two years, I want to finish in one year.' They said you can't take elementary accounting and advanced accounting in the same semester - it doesn't work! Hofstra refused to move, but Post said to me, 'If you sign a document stating that if you flunk out, it was your responsibility, you can do anything you want'."
He took his fellowship to C.W. Post Graduate School of Business. He got the only 'A' in the Advanced Accounting class that first semester.
He got his Masters after a year.
Saying Seymour Liebman is an accountant would be like saying Babe Ruth just played a little bit of baseball. True, but perhaps a bit understated.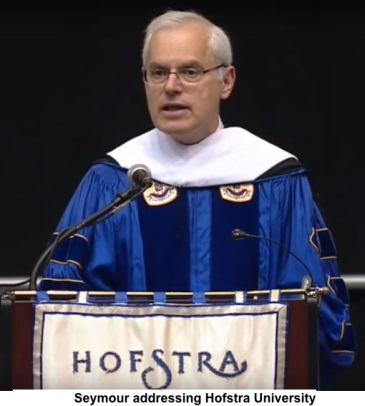 The Post Graduate School of Business asked him to stay on and teach accounting and business subjects. But he had also received an offer to join KPMG as an accountant. He accepted the KPMG offer and also taught night classes at Post.
In 2016, Seymour was presented an Honorary Ph.D. by Hofstra University. To see the presentation, scan:

The Canon Association Begins
KPMG had a management consulting contract with Canon. In the fall of 1973, Seymour, with his strong math background, was assigned to work on the consulting team. After a while, he was switched to the audit side of the business to work on the Canon audit.
He obviously impressed the senior management at Canon because in January of 1974 the president of Canon, Mr. Takikawa, said to him, "I need you to come work for Canon. We need somebody like you."
Seymour recalls considering the offer and deciding, "No, I'm really not interested right now because I need a year's experience to earn my CPA." Canon's president replied, "We don't need a CPA, it's okay." Seymour's response was, "I'm sorry, but I want my CPA."
KPMG finished the audit, and Seymour left. A year later, he came back to Canon just to say hi, and the president said, "Are you ready to start? We waited for you." And that was the beginning of Seymour Liebman's 40+ year career with Canon.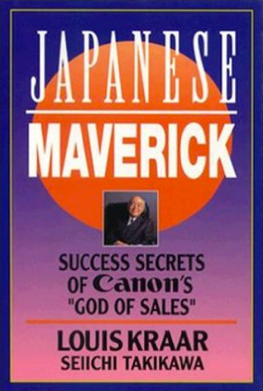 Excerpted from Mr. Takikawa's 1993 book, Japanese Maverick:
"I have been fortunate enough to have the right person to help me at the right time – which I call a relationship in fate. In other words, certain people seem to be linked to you by fate. An example of a fated relationship is Seymour Liebman, who is now treasurer and vice-president of Canon U.S.A. A few years after I became president of that company, we took over our products from American distributors and handled their sales. Liebman, who was a certified public accountant at Peat Marwick, came on my request to join Canon U.S.A. For us to get a young hotshot CPA as an employee was more than we could hope for back then when Canon was a fairly minor company in America. Without his presence at that time, the company would never have done so well."
Chapter 2: Themes, Insights, And Humor
From KPMG to Canon
When Seymour gave his two-week notice to KPMG that he was leaving the company to join Canon, the managing partner took him out to lunch and told him, "We'll give you five years to come back, no questions asked."  

Five years later, that same partner was at a Canon lunch and said to Seymour, "Your five years are up. Have you decided to come back to KPMG?" Seymour's answer was simply "I've decided. I'm staying with Canon." And thus, Seymour committed to a career that has spanned over 40 years.
The Early Days
When Seymour joined Canon in August of 1974 as an accountant, it was a mid-sized company. His employee number was 0123. He recalls asking how far he could go in the company as an accountant. He was told he might make Director of Finance by age 40 based on some restrictions in place at that time.
However, he quickly began steady progress up the company ranks and became a vice president in his thirties. Seymour recalls one of his early promotions and the situation that led to the opportunity.
Seymour reminisces about the early days. "The year I joined Canon the company actually had some layoffs - the only layoffs for financial reasons in our history. The older people in the company were telling me I should leave because you don't want a bankrupt company on your resume. The company was in trouble, and we all worked crazy hours – late nights and Sundays. I was single and living at home then, so the hours didn't matter to me."

Many New Hats
All the hard work and long hours paid off because the company got back on the road to success. But that December there were no bonuses and no holiday party. The national credit manager told Seymour that he was going to hand in his resignation, with the thought that Canon would give him a big bonus so they would not lose him. Seymour told him, "No, don't try it." Undeterred, the manager went to the CEO, Mr. Takikawa and said, "I resign." Mr. Takikawa accepted his resignation and then called Seymour and said: "You're now in charge of credit."  
Seymour's response was, "But Mr. Takikawa, I'm an accountant. I'm not a credit person. I don't know what to do; I'm not qualified." He answered, "You're qualified."
He must have done something right because a short time later when the Human Resources Director left the company Seymour's phone rang, and once again he heard the unexpected.
"You're now in charge of HR."
"I'm not qualified!"
"Yes, you are."
Seymour was bemused. "This is a great company – you don't have to be qualified, and you keep moving up!"
Seymour has been shown a high level of trust by his leaders, and their trust in him has been rewarded time and again.
Success Factors
The early career advances, as well as numerous others throughout his career, seem to be indicative of two key factors:
Seymour obviously had a recognizable skillset that gave his management team the confidence in his ability to deliver results despite having no practical experience with the new responsibilities he was given.

This is a theme that recurs throughout the conversation as Seymour shares quietly, proudly and with great admiration that Canon is a company and a culture that values the individual, not only for what they have done but also for what they can do.
Opportunities come in different guises, and great leaders find ways to recognize and pair the opportunity with the right individual. As one who has been on both sides of that equation, Seymour is thankful for the opportunities he has encountered and also enjoys providing opportunities for advancement to others.
Saying Seymour Liebman has filled a few different positions is like saying Tom Hanks has been in a few different movies.
Paying it Forward
Seymour has a simple rule for his people – make the decision. To Seymour, like many successful leaders, the worst decision is no decision. He understands that when people come to you for a decision, and you don't make one, it doesn't reflect well on you. It's also not good for the company to generally delay decisions.
He travels all around the world and is not always available to consult and decide. He trusts his team to take action, and he supports them when they make decisions. He may not always agree with the decision, but he puts his support behind the decision maker. He provides the encouragement and mentorship that helps them grow. Seymour teaches, everyone learns.
Seymour's approach to mentoring and managing is natural to him, but he has also learned more about mentoring from the guidance Canon's leadership provided him in his early days at the company.
Character Insights
One insight into Seymour Liebman's character comes from the question of, 'why out of all the KPMG people working on Canon's account was he the one to receive an offer to join the company'? When Seymour asked his boss that question the response was that his even-keeled, collaborative and professional demeanor demonstrated the character and values that made him the obvious choice to join the Canon family. He did not take a demanding posture when requesting documentation for the company audit but rather took time to explain what he needed and why.
We gain further insight when Seymour is asked why he thought Canon felt he could handle all the responsibilities he was given. Seymour shared that in addition to his willingness to take on added responsibility it was that he didn't overreact as some unfortunately do under pressure and was willing to work long hours to handle the increased responsibilities.
Cool, Calm, And …
However, he did lose his cool once. Mr. Mitarai, who was his boss at the time and is now Canon Inc.'s Chairman, had an office next to Seymour's and told him, "You're very even tempered. I hear everybody else raise their voice, but I only heard you raise your voice once."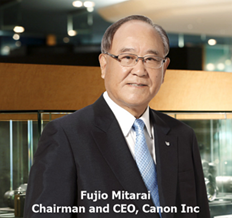 Seymour fills in the 'raising his voice once' story. "We were selling a company that we had an interest in, and we agreed on the price and all the terms. The buyer, who was also Canon's partner in the business called me just before the deal was to close and said, 'I'll take it, but I want a discount.' The last-minute maneuver was both unexpected and unappreciated. I said to him, in a volume much louder than my usual, 'Bill, either you pay the price we agreed to, or you don't get the company.' It seems my loud conversation came as a quite a surprise to my colleagues."
Seymour's talent for keeping his cool during difficult situations is exemplified by a New York Times article about his boarding a commercial flight with a machete and his first time to fly an airplane at 37,000 feet with no advance notice! Scan to read the article:

A First
Of all the recognition, all the accomplishments, all the remarkable firsts in his professional career one stands above all the others. In 2009, Seymour Liebman was appointed the first non-Japanese Executive Officer of the parent company, Canon Inc. in Tokyo. He was then promoted to Senior Executive Officer in 2013 and Senior Managing Executive Officer in 2016.
Canon U.S.A. Executive Vice President and Chief Administrative Officer
Seymour Liebman
Promoted to Senior Executive Officer of Canon Inc.
If you look at Canon's Corporate Profile, there are only fourteen executives above Seymour out of almost 200,000 employees.
When asked how his appointment as a Senior Executive Officer came about, he matter-of-factly shares his recollections of that time.
"The managers in Japan told me that based on their observations of my past services to the company, anytime there was something serious to be handled, the response was, 'Call Seymour, and he'll resolve the issue.' I think that recognition is why I was given the honor and responsibility of being appointed a Canon Senior Executive Officer."
As we'll see in our next chapter, that confidence in his ability to resolve an issue was rewarded when Seymour went toe-to-toe with another legendary hard-nosed negotiator, the late Steve Jobs.
Chapter 3: The Negotiator
After a few years with Canon, Seymour began hearing the comment, "You should go to law school." He had absolutely zero interest at the time, even though he was engaged in business negotiations that might have benefitted from some legal training. He recalls his boss at the time (and current Chairman and CEO of Canon) Mr. Mitarai, telling him, "Lawyers aren't businessmen, I want to make a businessman into a lawyer." These suggestions continued for several years, until 1985 when they became a 'very serious' suggestion.
Seymour, who was now a married father of two young kids, told his wife that Mr. Mitarai was again asking him to go to law school. "He's been telling you that for five years," she responded. "Yes, but this time he really means it!"
Realizing that this time the request was very serious, Seymour agreed. He enrolled in Touro Law School in 1985. Of course, he also told his wife that since he was going to Law School, he wanted to make Law Review. He relays his wife's practical advice: "Do you really need that additional pressure? You already have a job. Will Law Review really make a difference?"
He made Law Review.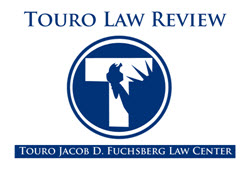 Making the Law Review means one excelled in their studies and either researched, wrote or reviewed articles published in a scholarly journal on some aspect of the law.
Acquiring a law degree certainly helped Seymour as his roles and responsibilities with Canon increased. In 1989, Seymour established the in-house legal department at Canon U.S.A., where he currently oversees almost 50 in-house attorneys including intellectual property attorneys. His breadth of experiences took him into situations that required a mix of skills and knowledge. Seymour says that Mr. Mitarai's foresight in sending him to law school was brilliant and he's so glad that he listened to him.
Like most major companies, Canon would often rely on the assistance of outside counsel to provide support and expertise in a variety of situations. Seymour, representing the business interests of Canon, would often find himself at the negotiation table alongside senior partners and veteran attorneys brought in to assist in negotiation. He certainly valued their experience and listened to their input. At the same time, Seymour had his own ideas as to how he saw a negotiation going.
"

I Like Doing Crazy Negotiations"
When you have a long and varied career, there will certainly be a few experiences that rise to the top. When thinking back across his many negotiations, these two stand out.
Seymour sets the scene:
"I will tell you one story that goes back 20 or 25 years. We had a major issue which could have involved us having to pay almost $200 million."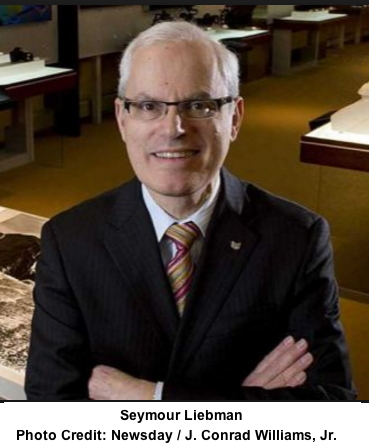 The negotiation begins.
"I went with our attorney to meet the other party. Our attorney knows I always try to save the company as much money as I can. I guess I treat Canon's money like my own and try to minimize how much money the company has to pay. He said, 'If you offer them less than $50 million they are going to throw us out on our head.' He was an older guy, probably in his mid-seventies, with long experience as head of the law firm and he expected to be the lead negotiator. I said to him, 'Norman, I will do all the talking.' He said, 'I'm warning you, let me do it.' Even more emphatically I again told him, 'I will do all the talking!'"
They entered the negotiation room to find 4 or 5 guys sitting across the table.
Seymour continues, "They said, 'This is what you owe us. We understand you want to settle.'
"I said, 'Look, we had a bad apple who acted in a way that obviously was not sanctioned by the company … we didn't approve it.'"
"One of them says, 'Well, we are here to talk money – if you don't want to talk money there's no purpose in talking. What do you want to put on the table?' I said, 'A million dollars,' and Norman kicked me under the table."
"They said, 'We need to talk among ourselves,' and walked out. My conversation with Norman went something like this:
Norman: "They are not coming back."
Me: "They are coming back, we put money on the table."
Norman: "Why did you offer a million dollars?"
Me: "Because we are not going to pay 50 million dollars."
Norman: "Oh yes you are." (He had told our president to plan on paying $100 million, and maybe you'll get a 50% discount off the $200 million.)
Norman: "They are not coming back."
Tick, Tick
"Well, probably half an hour, 45 minutes later they came back and said, 'Obviously, we are not taking that offer seriously, and you probably didn't take our number seriously. If we can settle this today, we are willing to compromise for 50 million dollars. We will give you guys time to think about it.' They left the room, and Norman strongly suggested that we offer $25 million and split the difference."
"We told them to come back, and I offered them 2 million dollars. By five o'clock that day, we settled it for six million dollars." After they left the meeting, Norman said to Seymour, "I'm not calling your president, I told him this is going to cost him $100 million dollars!"
"I went back to the office, and told them, 'We just settled it.' They asked, 'A hundred million or what?' I said, 'Forget that, we settled it all for just six million dollars!' They looked at me like I was nuts."
Steve Jobs and NeXT
Soon after Steve Jobs, the legendary founder of Apple, was asked to leave the company, he launched a new company, NeXT, in 1985 to develop a new personal and business computing platform. Jobs was the public face of NeXT, but there were two other key financial partners in the company. One was the billionaire entrepreneur and former U. S. Presidential candidate Ross Perot. The other partner was Canon Inc.

In 1996 Steve Jobs negotiated Apple's purchase of NeXT for $429 million along with his return to the company. Canon's Chairman called Seymour to let him know that Jobs would be calling him about the distribution of funds from the pending sale. When Jobs called, he stated that since he had 'negotiated' the deal, he expected a larger per-share distribution than Canon or Perot. Seymour said "no" and held firm that the parties would receive the full per-share value.
Steve Jobs, a man who did not like being told 'no,' informed Seymour that he would no longer deal with him and disconnected the call. He decided to go around Seymour with a call to Canon's leadership in Japan. He told them that he wasn't happy with Seymour and wanted to work the deal with someone else. They responded politely but pointedly that Seymour Liebman was their man, and there was no changing that position.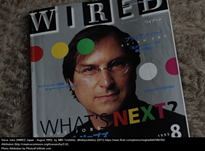 Jobs called Seymour back, telling him he had 'reconsidered' and decided to work with him after all.   Seymour responded as only he could, telling Jobs, "No, you didn't decide, you called Japan, and they told you that you had to deal with me."
Once that was settled, Seymour and Steve worked together over the next four nights to complete the negotiations for the sale and an equitable distribution of funds among the three parties. The deal was completed on Thursday evening in time for a Friday deadline for Apple to announce the purchase of NeXT and Steve's return to the company.
Well, This is Different!
As Chief Legal Officer, Seymour deals with a wide range of issues from contracts to acquisitions and increasingly finds himself defending against Patent Trolls. This practice has grown from an occasional nuisance to a full-fledged business. Companies have been formed to seek out and buy all manner of patents with the goal of creating revenue streams through both patent enforcement and potential litigation. Many companies find themselves in the dual positions of rigorous enforcement of their own patents and rigorous defense against patent infringement charges. Seymour has seen his fair share of both. His approach to dealing with Patent Trolling has been a bit different, as we'll see in the following example.
A patent troll claimed Canon was infringing their patents.  The court ordered mediation and assigned a well-known and respected mediator with offices in San Francisco and Maui.  One of the sessions was scheduled to take place at the Four Seasons on Maui. They were told the mediator required participants to come in suit and tie. When Seymour arrived with Canon's attorney, the hotel doorman immediately knew what room they wanted – because they were the only ones wearing a suit and tie in Maui!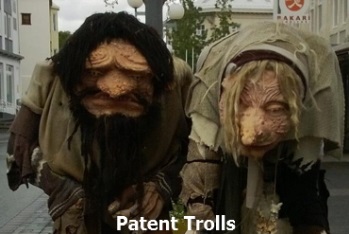 Seymour recalls: "The mediator told us the room on the beach was reserved for the entire day. If the mediation was settled at 10 o'clock, we could enjoy the room for the rest of the day."
Throughout the day and evening, the mediation was going nowhere as the other party was still expecting something around $400 million. Around midnight Seymour spoke with his colleagues in Japan and told them he didn't believe they were close enough to settle. They agreed – no settlement. The mediation was over, and he flew back home.
The court ordered one more round of mediation in San Francisco. As the meeting progressed, the mediator was not optimistic that the session would be successful and he said the parties could leave. Seymour asked if he could talk to the client by himself – with no attorneys in the room. Everyone agreed.
The mediator came back two hours later to see how they were doing. They responded, "We're still talking." The discussion continued until late afternoon when they decided they were going out to lunch because they were both hungry. Returning from the very late lunch, they called the mediator in, and Seymour told him they thought they had reached a deal, but he needed to check with his team in Japan first.
The deal was, to say the least, unusual and required a lot of non-traditional thinking. Seymour's proposal had two components:
The first component: Canon would agree to a small payment.

The second component: One of the claims that were part of the suit would be taken to a retired circuit court judge who would decide if there was an infringement or not. If there was no infringement, Canon would only be obligated to the small payment as agreed. If there was infringement found, Canon would make an additional small payment.
Seymour had to sell this deal not only to the plaintiff but also to Canon. It was very unusual, and it took some real skill to convince both parties this package made sense. Finally, everyone agreed to the deal. The issue was settled. All parties realized value, and it didn't involve a large cash payment.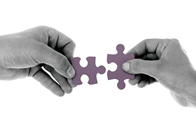 After the settlement, the person who sued Canon began calling Seymour to set up a lunch meeting. The gentleman represented several inventors and companies who sue for patent infringement. Eventually, Seymour agreed to a lunch and was surprised by what he was offered.
"I have a very successful business, but I've never negotiated against anybody like you. I want you to be my partner. You'll own 50% of my company." Seymour immediately said no, explaining, "I can't go to the dark side." The man replied, "If you ever change your mind, there's a ton of money to be made." Seymour's response was, "Yes, but I also have a reputation."
This little exchange provides another small glimpse into Seymour Liebman. These glimpses become a bit more personal later when he shares his thoughts on parents, family, community and his passion for the future.
Chapter 4: Building a Foundation
Seymour's approach to negotiation and settlement can at times be unique. His mindset going into these engagements is pretty simple. He will come to some conclusions as to what a fair and reasonable outcome would be for his company, but also what a fair outcome would be for all involved. Rather than approaching negotiation with the objective of destroying the opponent, he sees opportunities to build relationships as both parties work towards an acceptable conclusion. He believes in the adage – 'Fight hard, and fight fair.' Why leave behind rubble when you can leave behind a foundation on which to build?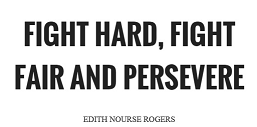 He is not content with just tactical successes of a positive outcome. He takes the lessons from those engagements and looks at how he can apply them on a larger scale that will bring positive benefit to his company, his partners, and most importantly his customers. His approach seems to be, how do we all win?
To Benefit Canon's Customers
This approach brings to mind a situation that was having a negative effect on Canon's customers. An organization held patents for technology and processes that linked several components that are commonly used in the document management world. This company was going after individual customers, from small users to large corporations for intellectual property (IP) infringement. Many of them were Canon customers, being sued merely because they were using a Canon device as one of the components.
They would go to each user and threaten them with litigation if they didn't pay for using the patented technology. Many were small businesses faced with a tough choice: hire an attorney to fight the demand, or pay the fee and move on. Many felt they had no choice and they paid.
Seymour decided it was time to get involved. He went to the IP holder with the goal of buying peace for Canon's clients. He was initially rebuffed, being told that it wasn't Canon being sued; they were going after the individual users. That response didn't sit well with Seymour and Canon, and they pushed back hard, telling the litigants they were going to go after them and seek a declaratory judgment. It happened that some state Attorney Generals were also looking at the situation, so the combined pressure of a major corporation and a group of government legal departments taking them on helped them see the light.
After a series of discussions, the issue was settled for far less than what was originally demanded. Canon now had protection for their customers. If any of them were approached, they simply had to say they were covered under the settlement. Not only was this a great benefit to Canon's customers, it was also a great selling tool for Canon's sales force giving them real proof that Canon is a company that truly looks out for their customers.
The Larger Picture
As the business of patent litigation continues to grow, so too the need for fair protection against the aggressive and invasive practice grows. Companies have been built to operate as patent assertion entities (PAE) and are generally referenced as patent trolls.
With PAEs looking for and acquiring large blocks of IP, one could easily find their business on the wrong end of this type of transaction. Canon and other technology-rich and intellectual property-rich companies are seen as targets of opportunity for patent trolls.
Having faced situations like these, Seymour was both frustrated and intrigued by the business and the abuse of intellectual property.
In an effort to provide protection to companies from the abuses of patent trolls, Canon, along with five other companies, founded the LOT Network in 2014 as a non-profit to provide members protection from PAEs. The members agreed that if any member company sold patents to a patent troll, each member of the organization would automatically be granted immunity for the life of that patent. Membership has rapidly grown to 108 companies from around the world in 2016.
*To learn more about Lot Network and its patent troll protections, scan here
Protecting Canon Customers protection from patent trolls provide by the
Seymour and Canon recognized that they could take positions that not only benefitted them but also addressed larger issues that have significant impacts on entire industries. They used their intelligence, sense of fairness and clout to put together strategies and solutions that help peers, partners, and most importantly, customers.
This combination of fairness and inclusion, combined with smart and informed business sense, is seen throughout Seymour's career. Whether tackling patent trolls or building a corporate headquarters, Seymour seems to discover strategies that not many other leaders would find. He figures it out, he gets it done, and he builds on the outcomes to develop new strategies.
Chapter 5: The Builder
Making Impossible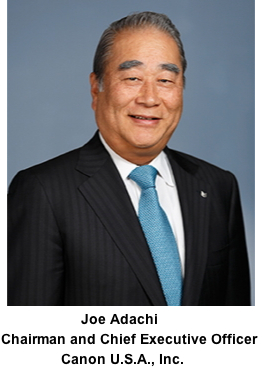 Canon U.S.A.'scommitment toits employees,future growth, andenvironmental ethicsis represented by itsmagnificent52-acreheadquarters in Melville, New York.The architecturally strikingcampus, designed and built to achieve Gold-level LEED certification (Leadership in Energy and Environmental Design),blends gracefully into the surroundingLong Island community. Seymour worked closely with Joe Adachi, Canon U.S.A.'s Chairman and CEO to build this facility.
Seymour the Builder
SinceCanon U.S.A. had outgrown itscorporate headquarters in Lake Success,New York, it had employees scattered at various offices. The company had been trying tofindasuitablefacility to bring their employees together inone officecomplex. When the decision was made to build a brand-new headquarters campus, the task of finding the'right' location andplanning and building the'right' facility was offered to Seymour.And as always, Seymour responded,"Yes" to the challenge.
Commitment to Long Island
Seymouralways felt strongly thatthenewCanon U.S.A.headquartersbelonged on Long Islandwhere it has been since 1971.  He also felt that Canon's employees were its major asset and that if Canon moved to another state, they would lose a considerable number of employees. That strong belief wassorelytestedatevery step along the way.  He had to overcome a long list of hurdles to make the vision a reality.
New YorkState had 'Empire Zones' – designated areas across the state that were identified as targets for development.  Theyoffered significant incentives and tax benefits to companies who built in one of these zones.  There were six designated zones in the Long Island area, but the location that was best suited to Canon's needs was not in one of them.  Seymour straightened his tie, grabbed his briefcase and headed up to Albany to engage in one of his most personally significant negotiations.  
Although New York was Canon's preferred location, other states were aggressively pursuing themand offering significant enticements and incentives.  These statesunderstoodthat landing a major corporate citizen brought along jobs, tax revenue andprestige that would attract other businesses to the state.  This situation provided lots of options to consider, and lots of leverage when it came time to negotiate.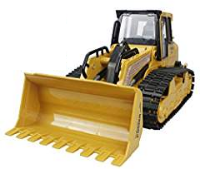 Making the Case
Seymourpresented his case to thestate officials responsible for designatingthe Empire Zones.  He arguedthat Canon wanted to build their U.S. based headquarters in New York, but they really needed the benefits of an Empire Zone to make it feasible.  They listened, and said,"Sorry, wecan't do it."
"Can't – or won't?" Seymour countered.  He then went through all the reasons it would be a good thing for Long Island, and how Canon was being aggressively courted by neighboring states.   His argument was persuasive; they went back to the table and started figuring out ways to make it happen.
Theyfounda way to take a small parcelawayfrom a larger tract in an existing Empire Zone and came up with a combination that would allow the creation of a seventh zone on Long Island.  Canon now had what they needed, and work began on what is now One CanonPark.
Building Through Adversity
Canon's plan was to build a five-story, 700,000 square foot office on the property, but the town zoning laws didn't allow for it.  Anotherchallenge meantanother negotiation, this time with the zoning board.  After some discussions, Seymour helped thezoning boardsee the merits of Canon's plan, and a change to existing regulations was adopted to permitfive-story buildings. 
This was a good decisionfor Canonas well asother companiesthatwanted to expand their footprintin the area.Thecityalsobenefitted from the increased tax revenue resulting fromthose expansions.This was another Seymour win-win style solution.
Putting together a 52-acre campus in a congested freeway area came with its own challenges.  With thousands of employees projected to relocate to the new facility, practical logistical issues needed to be sorted out. Originally, the added traffic would flow down theheavily traveledWalt Whitman Road.  The added burden of two to three thousand employees would cause significant, daily delays. Seymour went to the statelooking for permission to add two curb cuts – entrances –to the campusfrom the expressway service road.  He met with resistance and responded with persistence.  After some discussion with his contacts in Albany, Canon was granted their entrances.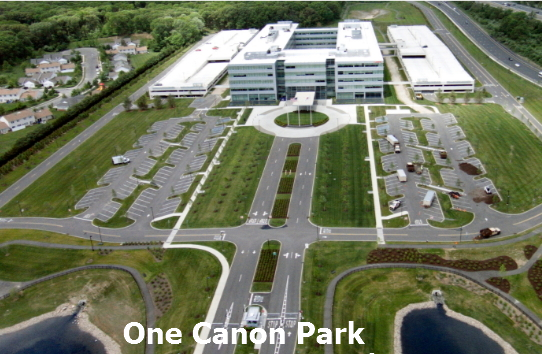 Other challenges came up as theprojectwasprogressing.  A problem arose with the construction of the sewer system that would service the complex.  There was a residential area nearby, and the sewer district wanted to have the new installation connectto itin a way that would bring the sewer pipes under the main building. 
This posedsignificant potentialissues aroundmaintenanceand repairthat wereimpractical and unacceptable to Canon.  In trying to compromise, Canon and their contractormade alternate suggestions that would minimize the impact of any potential emergency repairs,routing the sewer lines in a way that would sacrifice some parking lot blacktop rather than more invasivework inside the facilityif repair was needed.  
There was no clear path to resolution, so Seymour reached out to some powerful friends – a senator, a congressman, the county executive and the town supervisor. They all understood the importance of a successful project and the added jobs and businesses that Canon would bring to the area.  They helped find solutions, and the project moved forward to completion.  
Seymour worked with everyone – fromaUnited StatesSenator to the local planning and zoningemployees.  He says, "Everybodyhelped."
One Canon Park is now a beautiful campus, with one of New York's largest LEED Gold Certified buildings, ease of access, ample parking, walking trails and open spaces. And, permitsand plans are already in placeto accommodateCanon's future needs to expand the facility.  
The company headquarters in Melville, NY stands as one of Seymour's proudest accomplishments.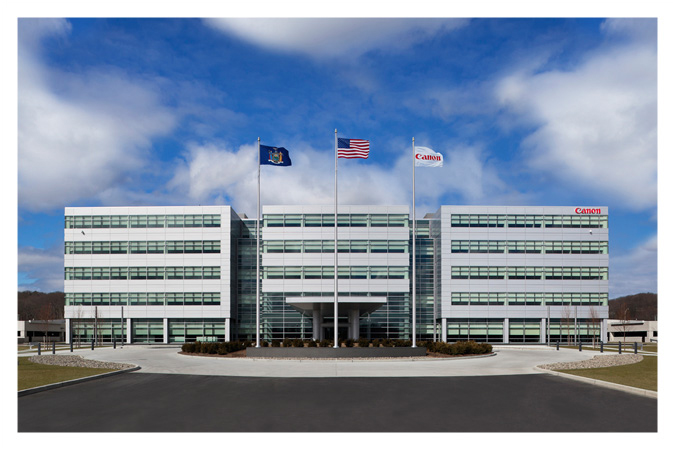 Canon U.S.A. Headquarters – One Canon Park, Melville NY
Chapter 6: Influence / Pay It Forward
Everybody Helps
It is not uncommon for senior executives to interact with political leaders over the course of their careers. Decisions that need to be made often radiate outward, impacting not just the business, but also the communities they operate in and the environment they share.
Seymour has certainly had many opportunities to work with government leaders and organizations across all levels. His interactions on the development and realization of One Canon Park alone covers the spectrum: local building and zoning boards, county agencies, the county executive, the Congressman representing Long Island, the Governor's office, the Senior Senator from New York. Building relationships at all these levels were both challenging and rewarding, and lessons were learned and shared along the way.
Seymour recalled enjoying a quiet Sunday dinner in a restaurant with his family. His cell phone began to ring, and the caller ID said, 'Restricted Number'. He answered the call and heard, "Hello Seymour, it's Chuck," to which he replied, "Chuck who?" Chuck was Senator Charles 'Chuck' Schumer, New York's senior Senator whose guidance and support was critical in helping Canon realize the vision of building their US Headquarters on Long Island. Seymour's wife dryly commented, "You're probably the only person to say, 'Chuck who?' to him!"
"Act like a leader and think like a leader – show respect and listen to people."
Seymour Liebman
A Different Kind of Influence
Another political figure had a more personal impact on Seymour. After retiring from public service, former United States Vice-President and Presidential candidate Walter 'Fritz' Mondale returned to his law career. He was a partner in the firm that represented Canon when Seymour first had the opportunity to meet him. He was impressed by the genuine way Mr. Mondale engaged with people and admired the kindness, consideration, and respect he showed everyone.
Seymour, who was in law school at the time, was working on the annual Law Review dinner. The committee was looking for a prominent guest speaker, and he suggested Mr. Mondale. They skeptically said sure – if you can get him we'll take him!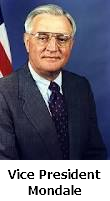 Seymour called him, and the former Vice President said, "Yes, just tell me the date, and I'll be there."
The date arrived, and Seymour went to pick him up at his hotel in Manhattan. Mr. Mondale asked if Seymour's wife was going to the dinner. Seymour said she was attending but would be coming separately. He picks up the story:
"My wife insisted that we should not inconvenience Fritz and stop to pick her up. He said to me, 'Can I use your phone? What's your wife's number?' He called her from the car and said, 'Mindy, we're going to come pick you up.' My wife told him, 'No, don't bother. I'm busy with the kids, and it's out of the way, so I'll come later.' He insisted, 'No, we're going to come get you.' So, we drove to our house, where our one-year old son was crawling around the floor. I've got pictures of Fritz Mondale crawling on the floor with him."
Their relationship continued over the ensuing years. Seymour visited him in Tokyo when he was the United States Ambassador to Japan, and in Minneapolis after the 1984 election when Fritz ran for president. He recalls walking with him to his club for lunch.
"Everybody on the street was walking up to him and saying, 'Mr. Mondale, I voted for you.' He looked at me and said, 'I should have demanded a recount. I haven't met one person that didn't vote for me.'
Pay it Forward
Intuitive leaders often model the best characteristics of people they admire. They also have the ability to recognize the potential of people they work with and find ways to help them build their experience through challenging assignments.
Amy Newman is a great example of how Seymour put these values into action.
Several years back, both Canon U.S.A. and Canon Europe were working on employee HR programs including training, compensation and employee evaluations. Their respective presidents realized it made good sense to work together. A team of HR people from the US travelled to London, and they weren't making the kind of progress that was expected. Seymour was then asked to lead the team and go back with them to get some things accomplished. His group included Amy, who was in charge of compensation at the time. As the work sessions progressed, Seymour noticed that she was engaged in all the discussions, giving her input on each topic.
On the plane back to the US, Seymour struck up a conversation with her and asked her if she would be interested in working with him. Amy was interested and asked what she would be doing. In an echo of his own career path, he answered, "A little of everything. You'll be the go-to person. You get things done." With responsibility for a pretty wide swath of Canon's US operations, this was not an exaggeration. Amy said, "Let me think about it."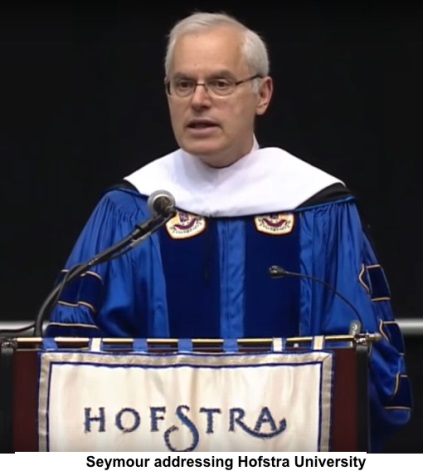 For the next few days, she asked questions about the job. She was concerned that she was asking too many questions, and wondered if Seymour was sorry he ever asked her. To the contrary, Seymour thought it was very smart of her to dig in; if she accepted the offer, her current position would be backfilled. If things didn't work out, she could find herself out of a job. After talking it over with her husband, Amy took the job, and it has been a great move for everyone. As promised, Amy has been involved across the business, handling assignments that require tenacity, creativity, and confidentiality. Other senior leaders have recognized her successes, and she is often requested to participate on critical projects. Her career has progressed quickly – she has moved from Manager to Senior Director in impressive time.
Seymour's goal of nurturing the next generation of leaders is quite evident in his commencementaddress to the 2016 Undergraduates ofHofstra University. His presentation stressed a well-rounded career to include a combination of financial, intellectual, and emotional well-being. He also shared one of his personal success mantras, "Be open to new opportunities and welcome them as stepping stones to moving ahead." To hear more of Seymour's commencement address, scan the code.
Culture and Vision
Canon's culture certainly provides opportunity for talented and dedicated employees to take on jobs that might seem a step too far, too soon. Culture is only part of the formula though. It requires smart, intuitive leaders to see that special something in a person, challenge them with great expectations, and nurture them as they grow into and beyond the next position. Seymour certainly enjoyed that faith in his long and interesting career, and he pays it forward by providing opportunities to the next generation of leaders.
Chapter 7: Service
The Difference Between Board and Bored
One characteristic that many leaders share is an almost child-like enthusiasm for innovation. They get interested. They get excited, and they get involved. They love talking about these innovations like sports fans love talking about their favorite team, or music fans talking about their favorite group. The talk isn't so much about statistics, averages, and technique, but about the joy that comes from seeing or hearing something that lights up their inner kid. Seymour exposes some of his 'inner kid' when he talks about the breakthrough technologies and processes he is exposed to as an executive at Canon, as a Board member of outside organizations, and as a 'civilian' who crosses paths with people from every part of the world.

A current passion that gets him excited is the work occurring in the field of Life Sciences.  Canon is involved in several promising projects they are researching and developing new technologies and processes in the medical field.  Seymour talks excitedly about one particular project that is creating an ultra-miniature endoscope smaller than 1 mm in diameter, which can be used for many medical applications. Additionally, another project under development will help surgeons combine medical imaging with robotics that will more precisely guide a biopsy needle to the target lesion.  Seymour, who sits on the committee that oversees these projects, is excitedly hopeful about these innovations and the benefits they will deliver to future patients.
In Service to Others
Seymour has taken on leadership roles for organizations in which he is actively involved.
Board of Governors of Touro Law Center

Board member and Vice Chairman of the Long Island Association

Board member of the Information Technology Industry (ITI) Council

Board Member of the Young Israel of West Hempstead

Member of the Council of Overseers for the Tilles Center for the Performing Arts

Co-chairman of LI Bio, a committee of the Long Island Association, comprised of Long Island's biotechnology and life sciences industries

Advisory Board of the State University, at Stony Brook Women in STEM Leadership Program.

Co-chair of the New York State Regional Economic Development Council Innovation Work Group for Long Island
Another great example is his involvement with his synagogue. He shares some insights into his strategies, and, as we have learned, he is not one to take a lot of time to get things done. And, as we also have learned, his wife wondered how he would do it.
He talks about how it all unfolded.
"I was vice-president of the synagogue we belong to, and I had no intention of being president. The person who was the president at that time was moving, and he came to me even though I wasn't next in line, and asked if I was interested in taking over the role. I talked it over with my wife, who said, 'When will you have the time to handle this, you're so busy now.' She was concerned that I would be over-programmed."
He decided, in a now-familiar way, to accept the role for one year. He identified three things he wanted to get done, and when they were done, he was done.
One, Two, Three, Done
His first project was reducing the synagogue's 7.75% mortgage rate, which he thought was outrageous. He was told that nobody would refinance the mortgage. So, Seymour called the bank and told them that he wanted to pay off the mortgage. They told him that he didn't have to pay it off, to which he replied, "I know we don't have to, but our rate is too high, so I'm going to get a cheaper mortgage." The bank offered a lower rate of 6.5%. Seymour refused and told them if he didn't get a rate less than 5% he was going to pay it off and go shopping. They came back with 4.75% with no additional charges. This 40% reduction was a fairly straightforward negotiation, except for one minor detail: the synagogue didn't have the means to pay off the mortgage and had this negotiation not worked, Seymour would have had to figure that part out in a hurry.
With that goal checked off the list, Seymour tackled objective number 2, an issue that presented a multi-faceted challenge for the congregation. The synagogue was served by a Rabbi who had devoted himself to the community for over thirty years. The congregation had grown to around 700 members and needed an assistant Rabbi. Seymour worked with the Rabbi, and he and the community agreed to hire an assistant Rabbi. The new co-Rabbi assists the Rabbi who was working 20 hour days.
The third objective was to address several property related issues that had been posing potential risks over the years to the families and their children who socialized there. By approaching those issues with the same perspective, he applied to his business challenges, Seymour was able to quickly find solutions that only required a small strategic investment to provide the community full, safe use of all the synagogue's property.
During Hurricane Sandy, many Long Islanders were without power for more than one week. As many people had no way to prepare their Friday night and Saturday meals, Seymour recognized a need for action. However, some board members complained that he didn't have authority to spend thousands of unbudgeted dollars on meals and with insufficient time to get board approval, Seymour, as president, decided to contract a caterer to provide dinner and lunch meals, Friday and Saturday, at no expense to over 200 people. Seymour was confident that contributions would cover the expense and true to form, the contributions more than covered the costs.
The Lesson in Seymour's own words, "Had I waited for Board approval, it would have been impossible to feed those people that weekend."  
In Biz Speak
Three objectives on the list. Three skills applied. Three positive results for the community. In his one year term.
To put it into business terms, Seymour used his financial acumen and creative negotiation experience to achieve favorable terms for his community. He called on his Human Resource skills to address a current and urgent need and developed a succession plan that would ensure long-term organizational stability. And he used his operational experience to identify opportunities and low-cost solutions that improved asset utilization and unlocked additional benefits trapped in existing infrastructure. In simpler terms, he provided great service to his community using skills he gained through his Canon business experiences.
Service to Family
As the conversation wound down and thoughts turned to family, Seymour spoke about his upbringing, and the profound influence his parents had on him. As a young man, Seymour received the guidance and advice that a father gives a son. As an adult, the conversations shifted to advice on family and career. Time passed. The care and concern from parents to son began to reflect back from son to parents. As he spoke about his parents, Seymour's tone and cadence took on the characteristics of the young boy, the maturing young man, and a fully realized adult with a family and a career of his own, who still cherished the wisdom and character of his parents. It was apparent that his parents' humility and unflinching integrity provided the light that shone on the path Seymour would follow. The loss of his parents was difficult, but their lessons were not forgotten. Seymour speaks joyfully about his wife, children, and grandchildren. He recognizes the importance of the family bond and how irreplaceable time with family can be for everyone. He remains, as always, practical and realistic and knows that his years of service to his company, his community, and his outside interests may have taken time away from his family. However, he happily relates how he attended as many of his children's school plays and sports events as he could. He talks proudly about his children and their accomplishments and how he loves to babysit and play with his grandchildren. His wife usually comments that when his grandchildren are visiting, he comes home earlier.
"I always tell people, 'You've got to make time for your family,' and they usually turn around and say to me, 'Look who's talking,' but then at least I can say to them, 'I've got Friday night and Saturday'." His orthodox Jewish faith and Sabbath practices regularly keep him with his family on those days, and that is what helps keep him grounded.
Seymour also knows that family is much more than one person, and he recognizes, in moments of humor and real affection, how much his wife has done in service to their family. Her support and encouragement have been constant companions in their remarkable journey of adventure and accomplishment. He says that when he retires, he looks forward to spending more time with his wife, children, and grandchildren. He says he could not have accomplished what he did without their love and support.

In Conclusion
To sum it all up, Seymour Liebman is an extraordinary man in ordinary clothes who carries a deep devotion to his family, his community and his company in a plain briefcase full of degrees, titles, and honors. Despite all his accomplishments, stewardship and mentorships, Seymour does not seem to be slowing down. In fact, as we were completing his story, Seymour was inducted into the Long Island Press Power List Hall of Fame on April I, 2017. Stay tuned for more Seymour Liebman achievements and contributions.
We feel privileged to share Seymour Liebman's business and life story with you. May his philosophies, work ethic, and win-win negotiating style have a positive effect on your business and personal success journey.
Thanks for reading,

Julie and Andy Plata, Co-CEOs
The OutputLinks Communications Group
The Foundational Stories of The People Behind the Enterprise
Produced and published by the OutputLinks Communications Group.
The OutputLinks Communications Group (OLGroup) is a global publishing, marketing, and consulting firm providing data-driven, transmedia messaging platforms and 1:1 communication support to enterprises and business professionals around the world.
Our services support distinct business communities with printed magazines, eNewsletters, online portals, and social media.
We provide enterprises, senior decision makers, technologists, analysts and investors with critical support and information for their strategic business objectives.